How to Get Facebook Followers: Facebook followers are what makes up of every Facebook page. Having huge followership on the network can help boost your business and personal profile to a higher level. Followers can do a lot of good for brands, businesses, and profiles.
Lacking Facebook followers mean your Facebook page will be less fun, and the exposure needed to make your page stand out will be reduced. This implies that having more Facebook followers means your brand will likely get more exposure globally and reach more people.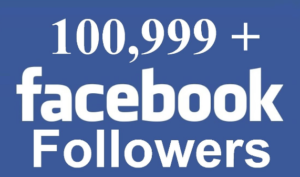 Because Facebook gets billions of daily users increasing your followership number can help you stand a chance to get publicity for free for your business, brand and personal profile.
Benefits of Facebook Followers
Facebook followers increase your interactions on your page.
Helps to advertise your brand, business, and profile globally for free.
It can increase your customer base for business owners.
Widens marketing coverage.
How to Increase Facebook Followers
Here are some suggestions that can help you to increase the number of followers on  your page:
Engaging more with other Facebook users will make them obliged to engage also with you because this will make them feel appreciated, and valued and are more likely to return the favor of engaging more with you.
Make posts that people will want to see and share to others. This will give your followership a boost when people find out that interesting contents come out of your page.
Use hashtags when making posts to either join a trend or create one.
Sharing other people's contents will make them feel obliged to share your own too when the opportunity presents itself.
By posting great content at least twice a day, to keep your Facebook audience engaged as much as possible you can increase your page activity.
Share contents you find interesting and follow other users too so you can keep up with trends.
By increasing your Facebook followers you get more exposure and interactions will increase on your page. Remember, the more engaging your page becomes the more users want to join the followership.
Originally posted 2020-05-17 07:01:34.